A request stop is a station that trains only stop on request. There is a fair amount of this type of station around the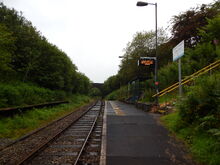 UK, approximately 150 or so, they are small stations that don't tend to see much use. Most of these you will find on branch line such as:
Far North line
West Highland Line
Kyle of Lochalsh Line
Heart of Wales Line
To alight a train at one of these stations ask the conductor on board.
To board at one of these stations hold your arm out so that the driver can see (similar to catching a bus.)